The term "investing" has a strong direct link with economic profitability, when we installed solar panels for self-consumption in the first houses 5 years ago, it was not as economically profitable as it is now, but of course today, our clients assure us that This was a very wise decision and they feel satisfied to have installed the solar panels in their homes.
The installation of solar panels for electric self-consumption throughout the world and in Spain in particular, has been on the rise in recent months due to the benefit that they can provide.
Why is this boom happening? In the first place, a greater awareness of society, in the second a significant reduction in the costs of the facilities, in the third place the increase in the price of common electricity and the boredom with the large electricity companies.
Do you still have doubts about installing solar panels in your house?
Top 10 reasons to install solar panels in your home
1) Installing solar panels is not an expense, it is a long-term investment
It would be wrong to consider the installation of solar panels as an economic loss, in fact, solar energy is above all a great investment in the medium and long term economically and in the short, medium and long term emotionally.
In addition to being a way of respecting the environment, solar energy can also be another effective way to diversify wealth.
2) You can create enough electricity for your own energy consumption
Its optimal operation allows us the controlled production of energy, according to our personal needs in each case.
In case we want to produce more energy than it is producing, we can freely increase the size of the installation and therefore the annual power and energy production.
One of the differentiating factors of photovoltaic solar energy is its scalability, it is possible to make a domestic installation of 4 solar panels, 10 or 20, with reasonable specific costs.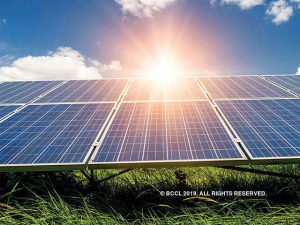 3) It is an environmentally friendly investment
Unlike fossil fuels, the sun's rays provide a reliable and environmentally friendly source of energy.
Having photovoltaic modules installed allows you to enjoy sustainable energy, which will not cause the natural resources of our planet to be depleted.
In addition, solar energy does not produce CO2 and therefore does not damage the ozone layer.
Regarding the hoax that a solar panel is not amortized energetically, the return is currently around 1 year, that is, the first year of life will generate the same You can enjoy extra financial help.
The Spanish government promotes a series of aid so that whoever wants to generate photovoltaic solar energy , the installation of solar panels is less expensive .
Some Spanish communities such as the Valencian community, for example, give aid of up to 20% of the price of the installation of solar panels, making it much less expensive and thus promoting the use of renewable energy.
Also in many municipalities there are aid via tax deductions in the IBI.
And there are adequate financial products to finance these facilities in good condition.
5) The material from which photovoltaic panels are made is reliable and durable.
Investing in CE marked solar panels ensures reliable and long-lasting equipment. In general, the modules have a 10-year product warranty and a 25-year performance warranty.
They are very resistant to UV rays from the sun but also to sudden variations in temperature
6) Reduce your energy bills
A photovoltaic installation does not have to cover all your energy needs, however, it can cover a large part of them. In systems with accumulation, usually lithium batteries, the contribution is much higher, even allowing the reduction of the fixed term.
By using directly the solar energy that you produce and consume as a priority, you save a lot on your energy bills at the end of the month, since you need less and less the common electricity grid and you are self-sufficient with your own.
In a future scenario with a net balance, the degree of self-sufficiency,% of energy generated over total consumption, will be higher with less investment.
7) Operating costs are low
Once installed, solar panels will give few problems:
● They do not require fuels or consumables to function.
● The panels are static and therefore not damaged by use.
● Once the initial investment has been made, the costs of such installation are minimal.
● Monitoring system of almost all values ​​allows, in addition to control by the user, a very low maintenance cost.
8) You can avoid fluctuations in energy prices
In recent years, the price of traditional energies such as gasoline, gas or electricity, have tended to vary in price, and almost always with upward trends.
Fortunately, this is not the case with solar energy , with the installation of photovoltaic solar panels at home, you produce a constant amount of energy that is also easily predictable over the years. Once the investment is made, you will enjoy a constant cost for self-generated energy for the next 40 years, fixed, well below the market price, even below 4 cents per kWh.
9) You can compensate for the excess energy you produce
In the near future, two or three months, we will have a monthly net balance system, which will allow us to take advantage of all of our energy and balance it at the level of bills with night-time consumption and at times when we use the energy from the network.
10) We can bring energy to areas where traditional electricity does not reach
Some areas of Spain are particularly remote and difficult to access. Because of this it can be complex or very expensive, integrating electricity into an isolated house.
Installing solar panels for insulated systems offers a solution, to bring energy to areas that are difficult to access, where the electricity distribution network does not reach, in addition to being a much cheaper energy than diesel and of course non-polluting.