If you are thinking of buying a Smart TV before you must take into account a series of factors such as the use that you are going to give it, the place where you are going to place it, the characteristics you are looking for and the budget you want to dedicate to it. In this article we are going to clarify all your doubts and we are also going to tell you which is the ranking with the best Smart TVs that you can find today.
What is the ideal size for a television?
l thing is to be clear about where we are going to place it and how far from it we are going to be located, because, for example, if we buy a television with many inches but we are going to be too close we will not see it well and we will be wasting its full potential.
Experts recommend that the distance between our seat and the screen be between 2 and 3 times the value of its diagonal . That is, for example:
32-inch TV: Distance should be between 1.5 and 2.3 meters
TV with a screen between 40 and 43 inches: Distance between 2.0 and 2.8 meters
Smart TV between 46 and 49 inches the optimal distance is between 2.4 and 3.2 meters
50 to 55 inch TV: between 2.8 and 3.6 meters
Features that a Smart TV should have
If you are considering buying a Smart TV, it is because you want to take advantage of all the possibilities that these types of devices have, so you must make sure that they include at least the following characteristics :
Internet connection : Obviously every smart TV must offer this feature, what you should take into account is what type of connection it brings, Ethernet or Wifi, and its characteristics.
Be able to surf the internet
That can record and play movies and shows
Type and number of connection ports : USB, HDMI …
Possibility of connecting a good sound bar .
Applications that come pre-installed and the possibility of installing new ones (Netflix, Amazon Prime, YouTube, Movistar …)
Watch traditional television and also be able to watch the channels through the internet
The best Smart TVs according to quality-price
Now that we are clear about where to place our Smart TV and the minimum characteristics that it must meet, we are going to see which are for us the best Smart TVs that currently exist and at the best price, that is, those that have a very high price. interesting in relation to its characteristics:
Samsung 32T4305 2020 TV – 32 ″ Smart TV
Among the features that this model has are:
HD picture quality
HDR technology: Thanks to which the image has higher contrast and the colors are more realistic
PurColor: technology capable of expressing a wide range of colors to make images as optimal as possible
Ultra Clean View: which provides images with very high quality by having lower level of distortion and improved details
Smart TV with Tizen: It is a content platform.
Compatible with Voice Assistants: to be able to access our favorite content through voice assistants.
Samsung 50RU7405 series RU7400 2019 – 50 ″ Smart TV
If you have more budget and you are looking for a superior model but at the same time keeping a very interesting price, this is a good option, as it has the following characteristics:
True 4K UHD Resolution: This resolution provides 4 times more pixels than FHD TVs
4K UHD processor: It is a Samsung processor that manages color by optimizing contrast and dominating HDR
HDR10 +: 4K UHD TVs expand the lighting range so you can enjoy more colors and details, even in the darkest images
Dynamic Crystal Color:
This technology offers a hyper-realistic variation that allows you to appreciate even the smallest detail of the image
Audio: Dolby Digital Plus, 20W Sound Output, 2Ch, Multiroom Link and Bluetooth Audio
Connectivity: 3 HDMI, 2 USB, Ethernet (LAN), Digital Audio Output (optical) and CI Slot
Display: LED
LG 43UM7100PLB – 108 cm 43 ″ 4K UHD Smart TV
This LG brand model has been renewed in 2020 providing more than interesting features and maintaining a good price:
Intelligent 10-bit quad core processor that analyzes each frame offering better image quality.
LG UHD that has Artificial Intelligence
Ultra Surround sound that provides a surround sound experience of 20W of power
Smart TV webOS 5.0 operating system, with Artificial Intelligence LG ThinQ AI, Alexa, Google Assistant
Enhanced connectivity with HDMI 2.0, USB2. 0, LAN RJ45 and WiFi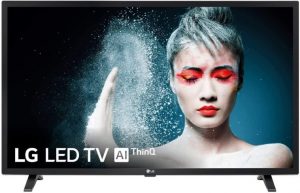 LG 32LM6300PLA – 32 ″ Full HD Smart TV
If what you are looking for is a smaller Smart TV, this LG model is an excellent option, as its features include:
It has Artificial intelligence
Easy, fast and secure Smart TV Web OS 4.5 Operating System
10-bit Quad Core processor, which improves each image by analyzing each frame of it.
LED display with Full HD resolution, HDR 10 Pro, HLG, Dynamic Color, LUT 9x9x9 color mapping, noise reduction, per-frame analysis, resolution rescaler.
Virtual Surround Plus sound
Smart ThinQ Connectivity; control with your voice all the Smart devices connected to the WiFi of your home; Magic Control not included
Connections: DVB-T2 / C / S2, HDMI 2.0 (x3), USB (x2), optical output (x1), USB recorder
A television that may seem small but considering its characteristics and its price is an option to consider. You can see its characteristics and current price here: Smart TV Full HD 32 ″
Samsung Crystal UHD 2020 50TU7105- 50 ″ Smart TV
To finish with this ranking of the best Smart TVs, we suggest this 50 ″ Samsung model that includes excellent features such as:
Crystal uhd: capable of reproducing more than one billion colors more purity
Crystal 4k processor: providing impressive image quality, thanks to its processor that optimizes color and high dynamic range (hdr)
HDR 10+: HDR technology creates deeper blacks and enhances the level of detail in every scene
Compatible with voice assistants: access your favorite content through voice assistants, like Alexa
Smart tv with tizen and universal guide: It is a platform that provides a wide variety of content.
Taview: It is an interesting function with which just by touching your television with your smartphone you will duplicate its screen to see it larger
Intelligent Sound System: adjusts the sound by detecting variations, adapting to each type of scene.
It is one of the best-selling Smart TV models on Amazon, you can see its price here: Samsung Crystal UHD
We hope we have cleared up your doubts with this ranking of the best Smart TVs