The best Android smartphones
The high-end of Android smartphones , also called mobile phones or cell phones, is renewed every quarter with different manufacturers launching new phones on the market. When it's not Samsung it's OPPO, and when it's not Xiaomi or Google itself, embarked on its Pixel line. But that means that there is more and more to choose from to buy, and to make the choice easier for you, we bring you this article on the best high-end Android phones .
Due to the tendency to make phones bigger and bigger, I have had to move away from including mobile phones with a restrained screen and those with larger screens in the phablets . Here I try to put the phones more focused on mobiles that do not go much from 155 mm in height, and I leave for a different article those that are rather high-end phablets , but many times it is impossible. In practice,
We also have other listings for smartphones or mobile phones and phablets :
The best mid-range and low-end phones of the moment (Android).
The best high-end phones and phablets of the moment (iOS, Android).
The best mid-range and low-end phablets of the moment (Android).
The best dual/dual SIM phones of the moment (Android).
The best high-end Android mobile phones , taking into account in part the quality / price but above all their quality, are the following according to our criteria and tastes. Keep in mind that the phones on display here have high durability, either because they use Gorilla Glass screens, or are generally resistant to use and the passage of time. You will find cheaper phones, with features that will make them run smoothly, but they usually have more normal designs, more mediocre cameras or a worse operating system update policy.
Since the technical characteristics are very similar, I am going to focus on the added value that differentiates these mobile phones. In addition, since it is difficult for a phone from six months ago to stop being high-end because its company launches a renewed version, I also include models that are really well priced right now and that do not have many differences with respect to the phones that substitute although they can be included in the medium-high range and not in the high range.
Things to keep in mind
When buying a high-end mobile phone, you are paying for the best hardware on the market . They are the most powerful processors, which will serve in many cases to play with great quality and fluidity —although it is not the main use of a phone— , although the graphic power they have is currently usually redirected towards processing data more quickly and efficient. Processors like the Snapdragon 888 have a coprocessor for this, and the Pixels have a visual processing unit to improve the quality of photographs, among other uses. Normally the high-end includes at least 8 GB of RAM and 128 GB of storage, which should not be a problem for the average user.
It is also expected from a high-end phone, when you already put yourself at prices of 500 or more euros, that they have a great camera . Although it is fashionable that they have several rear sensors -or front, for selfies- , they do not necessarily provide better quality photos. They provide information enhancement of the captured image or telephoto features, but ultimately the quality of the image taken depends on the post-processing done by the phone, which depends on algorithms that vary greatly from company to company. Those with an ultra-wide sensor can be useful in certain situations, but generally won't give the same image quality as the main sensor.
In these phones it is also common for them to have ultra-fast storage of the UFS 3.1 type (universal flash storage ), compared to the eMMC (embedded multimedia card) of lower range phones. The main difference is the speed of opening applications or reopening them if they have not been used for a long time. In addition, those that have a micro-SD card reader should be accompanied by micro-SD cards that have the qualification of suitable for use with mobile phones, marked with A1 or A2 in their box.
It is also expected, at this point, that high-end phones have energy saving systems, batteries of 4,500 mAh or more, and, above all, have fast charging . That will generally lead to recharging them with the wall adapter included with them so that they can be quickly charged, since USB 3.0 outlets, except for the special ones for it, cannot provide the necessary wattage, generally between 30 and 65 watts for these systems. fast charge. Wireless charging is an equally interesting extra for user convenience, as well as reverse charging to charge other devices from the mobile battery. This reverse charging can also be wired or wireless.
Finally, for the design of the phone, aluminum, or aluminum and glass, are usually chosen, and many users will look for a model that is waterproof, which is also common among high-end mobiles. In these cases, if the phone has them, it is necessary that the connector covers are in place. Keep in mind that this waterproof is especially for contingencies, but they are not for submerging phones indefinitely. In addition, the screens are not adapted to be used underwater, so using them in the aquatic environment can be practically impossible.
Similarly, there is a trend to remove the 3.5mm audio jack to replace it with a digital audio output through a USB Type-C connector. It has the advantage that the digital-to-analog conversion (DAC) is done directly in the headphones. with sound quality advantages, but they have to be special headphones that integrate a DAC for it. Manufacturers usually accompany phones in these cases with a USB type C to 3.5 mm jack /connector adapter that already includes a DAC.
In terms of the operating system, high-end mobiles are usually guaranteed at least two or three major Android updates, and generally an additional year of security updates. Many mid-range mobiles tend to stay with the version of Android with which they are purchased, although they receive some minor update from time to time, so the high-end ones tend to last longer in use thanks to those updates and the power they have.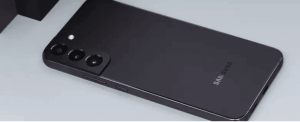 Galaxy S22
The Galaxy S22 series is made up of three models, the first two being very similar to each other with a change in size. In fact, the Galaxy S22 is very interesting because it measures 146 mm × 70.6 mm × 7.6 mm, which for these times is low. Its weight accompanies 168 g. The S22+ is larger at 157.4mm × 75.8mm × 7.6mm and weighs 196g.
This implies that the S22 has a 15.5 cm diagonal (6.1 in) screen and the S22+ has a 16.8 cm (6.6 in) OLED type and reaches 1300 or 1750 nits of maximum brightness when playing HDR content. They are 120 Hz with adaptive refreshment, and have tap sampling at 240 Hz.
The processor is an Exynos 2200 (Spain) or a Snapdragon 8 Gen 1 in other regions, with 8 GB of RAM and 128/256 GB of storage. The battery is 3,700 mAh (S22) or 4,500 mAh (S22+) with 25 W fast charging via USB type C, with good autonomy for 15-20 hours of screen use to play videos or browse the internet.
The rear camera system includes a 50 MP and ƒ/1.8 main sensor, a secondary 12 MP and ƒ/2.2 120º ultra wide-angle sensor, and a tertiary 10 MP and ƒ/2.4 three-magnification optical zoom sensor. His photos are really good, with good exposure and details, and even at night they are very good thanks to the enhancement modes that Samsung includes in its mobiles. The front camera is 10 Mpx and ƒ/2.2, which is also quite good with the usual Samsung tools to improve selfies.
Google Pixel 6 and Pixel 6 Pro
The Pixel 6 is the first from Google to use its own processor, the Tensor, and it gives quite remarkable performance. The design of the mobile is made to be waterproof and dustproof. The screen is 6.4 in AMOLED type with 90 Hz refreshment and reproduces high dynamic range content. There is a fingerprint reader on the screen. Color quality is great and all your content will look great on it with a maximum brightness of over 900 nits, and it's also flanked by stereo speakers.
The battery is 4600 mAh with fast charging, 21W wireless fast charging and reverse wireless charging. The autonomy is average, it will not impress but it will manage to scratch about 12 to 15 hours of screen use depending on the task.
As for the rear cameras, the main one is excellent. It takes great daytime photos, as a lot of detail and good color capture, and at night the photos come out well balanced, without over-processing them to reduce noise, and it is not necessary to use the night mode. It is a very good camera for night or in situations with low light, overcast sky, etc.
Pixel 6
The Pixel 6a is similar to the Pixel 6 but reduces the screen and the size of the mobile, down to 152.2 mm × 71.8 mm × 8.9 mm and its weight at 178 g. For those who want a moderately sized smartphone, it's the best you'll find on the market today. The screen is 15.5 cm diagonal type OLED with 1080 × 2400 pixels and 60 Hz, protected by Gorilla Glass 3.
It maintains a 4300 mAh battery with 30 W fast charging, and the rear camera drops to a 12.2 Mpx and ƒ / 1.7 that records video at 4K and 60 f / s. It takes very good photos and videos despite its low megapixel count, but the Tensor processor does very good post-processing. It maintains the secondary ultra wide angle, and the front one is 8 Mpx.
xiaomi series 12
Xiaomi's Model 12 is the best mobile the company has produced so far, and by quite a bit. It takes it in the price. It has a modest size, with 152 mm of height, and that is always a powerful claim. The screen is 15.9 cm diagonal (6.28 in) so it has minimal frames. It is OLED type, 120 Hz, plays HDR up to 1100 nits, FHD +, and in general it is an incredible screen for multimedia. There's an in-display fingerprint reader, and it has stereo speakers.
The processor is a Snapdragon 8 Gen 1 , which was the most powerful thing on Android at the time this mobile hit the market. The day-to-day performance is perfect, in games too, and there will be no complaints in these areas. The battery is 4500 mAh, with 67 W fast charging and 50 W wireless. The autonomy is decent, not surprising, but it will last 10-14 hours of screen use with normal tasks such as web browsing, videos or chatting. If it is played, it will last considerably less
The 50 Mpx rear camera is excellent, although it competes with many mobile phones in quality, and therefore it is not a section in which it stands out over current mobile phones and the best of the best from a year or two ago. Of course, the photos are sharp, with good exposure, perhaps very slightly oversaturated, but they are excellent photographs. It can record video at 8K, although it is better to use it to record at 4K and 60 f / s, which is its strength.
OnePlus 10 Pro
OnePlus has renewed the 10 Pro focusing on important aspects for a high-end such as the camera or the processor, but it does not change much compared to its predecessor. Even so, it is still one of the best phones on the market. It is 163mm × 73.9mm × 8.55mm in size and weighs 201g. Its 17 cm diagonal (6.7 in) AMOLED screen has a resolution of 1440 × 3216 px and a refresh rate of 120 Hz. It has great color reproduction, good maximum brightness and plays HDR10+ content. It has stereo speakers.
The processor is a Snapdragon 8 Gen 1 , the best processor in the first half of 2022 for Android phones. It has at least 8 GB and 128 GB of UFS 3.1 storage. The battery is 5000 mAh with 65 W fast charge, which allows you to recharge from scratch in about 40 minutes. It also features 50W wireless charging and reverse wireless charging. Its autonomy is around 15 hours of video playback and web browsing, or more around 12 hours with a little of everything (calls, browsing, video, chat, photos).
The rear camera system includes a 50 Mpx ƒ/1.8 camera, a 50 Mpx ƒ/2.2 150º ultra-wide-angle camera, and an 8 Mpx ƒ/2.4 telephoto camera with ×3.3 optical zoom. An interesting novelty is that it can capture 10-bit color photos, although its usefulness in practice is debatable. It captures photos with good detail day and night, although there are times when it is a bit aggressive with post-processing. Video recording is also very good, especially at 4K, although it can also record at 8K.
Poco F4 GT (Xiaomi)
Qualcomm Snapdragon 8 Gen 1 8GB 128GB 6.67″, 2400 × 1080 pixels (395 PPI) 4700mAh 162.5 × 76.7 × 8.5mm, 210g 64+8+2MP / 20MP 5G, HDR screen, fingerprint reader, USB type C, 120 W charging, dual SIM, Android 12.