Are you considering investing in a new iPad? Maybe you want one for your studies, to draw digitally or are you wondering if you should skip a laptop and have a tablet instead?
Then you have come to the right place! In this guide, I thought I would tell you about the three models on iPad that were released in 2020: iPad 8th gen, iPad Air and iPad Pro and give my thoughts on who and what they are best suited for.
I was also going to talk a bit about accessories like keyboards, covers and Apple Pencil.
Let's do this!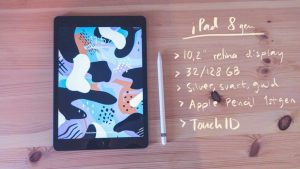 iPad 8th gen – the basic model for studies, surfing, streaming and games
The design of this iPad is recognizable, this is how the iPad has looked in recent years. Wide edges at the top and bottom, rounded design and the increasingly rare home button at the bottom with fingerprint reader (TouchID).
This model is simply called iPad, but to distinguish it from previous variants, it has been given the extension "8th gen", ie the eighth generation.
Inside, this iPad has Apple's chip A12 Bionic, which means that it is faster and has better performance than its predecessors.
Draw and write by hand with the first generation Apple Pencil
This model is happy to angle Apple towards school and studies. It supports the first generation Apple Pencil, which allows you to draw and write by hand. For example, to take notes.
The experience of drawing and writing on this is not quite as snappy and smooth as on Air or Pro, but for those who mainly want to do it for schoolwork or for fun, it works great!
There is no way to attach the pen directly to the iPad, in which case you can get a special cover for it. Charging and connecting the pen is done via the lightning socket at the bottom of the plate (which is neither a nice nor flexible solution). You can also charge the pen by using (and managing to keep track of) the iPad's charging cord together with a small adapter you get with the pen.
Keyboard and shell
I have tested iPad 8th gen together with Smart Keyboard . It snaps magnetically onto the side of the iPad and should serve as a cover for the front, a stand and a keyboard.
Compared to using a Smart Cover that only acts as protection and stand, the thickness with the built-in keyboard is of course a little larger and it weighs a little more. But it's still a very slim design!
But if you want to be able to type comfortably, the Smart Keyboard works very well. In general, it is otherwise a bit clumsy to type with the touch keyboard on an iPad, so if you want to use your tablet for mail handling, notes or other word processing, I would say that some type of keyboard is a must.
The feel of the Smart Keyboard is soft and nice with just the right amount of clicks. The keys are quite small but I still do not find it difficult to hit correctly and get up to good typing speeds. Smart Keyboard has no touch pad so you still have to navigate through the screen to switch apps or click on options.
The slightly negative thing about this type of keyboard is that it is a bit flimsy and therefore can be difficult to use in the lap. On a table, however, it works fine!
If you do not want to use the keyboard, the shell can easily be folded and lies flat against the back of the iPad when you e.g. want to read or draw.
Who is the iPad 8th gen suitable for?
iPad 8th gen is perfect for you who want to use an iPad to surf, check social media, stream video and play games. It also works well for school and studies.
If you are looking for an iPad for your child or teenager, this is also the given option I would say.
The simplest model with 32 GB of space and only WIFI (not SIM card) starts at around SEK 4,000, which I would say is very affordable for what you get!
Apple Pencil costs another thousand kroner and Smart Keyboard is SEK 1,795.
iPad Air 2020 – the intermediate model for drawing, streaming and much more
The new iPad Air has received many of the positive things from the iPad Pro, but in a slightly slimmer and more affordable model.
It has a narrow edge around the entire 10.9 ″ large screen and an on / off button on the top with fingerprint reader. The plate comes in five colors: silver, space gray, rose gold, green and blue. I have tested the green which is also my favorite color in the lineup!
iPad Air has just like the Pro and also the new iPhone 12 a flat edge around. This means that it also supports the second generation Apple Pencil.
iPad Air has been equipped with the powerful A14 bionic chip, Apple's latest, which means that despite its slim profile, it has a lot of performance on the inside. For example, to use advanced apps for image management, augmented reality and also for games.
Draw and illustrate with the second generation Apple Pencil
The experience of drawing and writing by hand on the iPad Air is very similar to that of the iPad Pro – which is really awesome.
As mentioned, the new iPad Air supports the second generation Apple Pencil which magnetically attaches to the side of the tablet to charge and connect. So smooth and nice. The pen is also much more comfortable to hold and use than its predecessor.
I have previously drawn a lot on the iPad Pro and I think the experience is very good on the new Air, although there is definitely a slight difference. But if you have not drawn on the iPad before, you will love the experience on the iPad Air!
Keyboard and shell
The new iPad Air supports Apple's Magic Keyboard. It's a solid shell with a real keyboard with clickable buttons, touchpad and lighting. The iPad attaches very smoothly magnetically to the top (SNAP!) and can then be angled.
Since a lot has to be accommodated on the keyboard, it becomes quite narrow, which can take some time to get used to if you are used to typing on a laptop. I typed quite a lot wrong and hit the wrong keys in the beginning.
The hinge itself is very stable, which means that you can use the keyboard on your lap (like a laptop!) Without any problems. The plate is also very tight so you do not have to be afraid that it will fall down. At the same time, it is very easy to just lift it off if you want to take notes in advance.
Folded up, the tablet will be quite thick of course with this cover, but if you want to use your iPad Air more as a laptop, this is a really good alternative.
The slight downside of this type of shell is that you can not fold behind it when you do not want to use the keyboard. Then you must instead remove the plate completely – and then it is completely unprotected.
For my iPad Pro I have used Apple's Smart Keyboard Folio which can be folded back completely (then the keyboard is deactivated) – which I think may be preferable in many situations. But then you get no touchpad and not the same stability as with the Magic Keyboard.
Since I do not use iPad instead of laptop for everyday, I bought a third-party cover to use for everyday. I tried to find one that could match the green color of the plate a bit. This is a variant that protects both the front and the back.
Apple also has Smart Folio for iPad Air that snaps magnetically and protects the front, and also acts as a stand.
iPad Pro – the worst model for you who work professionally
For the sake of transparency, I must say that the iPad Pro I tested is the one that was released in 2018. However, the model I had at home is the absolute worsting model with a large 12.9 ″ screen and 1 TB hard drive.
In March 2020, Apple launched its updated iPad Pro with the A12Z Bionic chip, updated performance, updated cameras and new LiDAR technology for measuring distance (which enhances augmented reality features).
Otherwise, the design is the same with flat edges and FaceID through the camera on the front.
The iPad Pro is therefore available in two sizes: 11 ″ and 12.9 ″. The one I had is the bigger one and in many situations it is almost a little too big. But to take handwritten notes, it is very neat because it is almost the same size as an A4 paper.
But for most, I think the smaller 11 ″ model is more optimal.
To draw on iPad Pro
It can not be ruled out that the experience when drawing, painting and illustrating is incredible on the iPad Pro. But it also costs after that. It is incredibly soft, compliant and frictionless. The screen is amazing!
iPad Pro also supports the second generation Apple pencil that snaps magnetically on the side for charging and connection.