Google Home has a large number of advantages and functionalities. The Google assistant is increasingly used to make life easier . Since its arrival, Google Home is able to tell us from the latest news to tell us the weather. Its management through voice, make it a simple and intuitive tool to use that has a place in any home that wants to improve comfort.
To all the advantages that Google Home already has, we must add a new one, that of being able to be used as a loudspeaker . Many people are looking for a wireless speaker through which they can listen to their music throughout the house. Now, you can enjoy Google Home on your PC precisely because of this function, that of being able to be used as a speaker.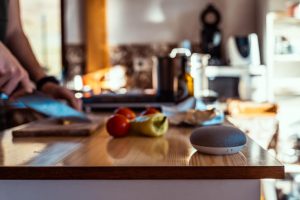 How to use Google Home as a Bluetooth speaker
Thanks to the fact that Google Home has a Bluetooth connection , you won't have any problem to be able to send music through it and use it as a speaker, let's see how.
The first thing you have to do is open the Google Home application on your mobile. This you are going to do to choose the compatible speaker that you are going to link via Bluetooth. If you have multiple Google Home devices at home, you may just want to select one so that the music can be played.
With the device selected, tap on the gear that appears to enter the speaker settings . Enter the option "Disp. Bluetooth paired "and pair it . Once you have selected this option you will have to enter your mobile phone or computer, that is, any device that has Bluetooth to pair it.
Simply go to the Bluetooth settings of the device you want and, among all the options where you can choose, you will see the option to link it with Google Home . Once both devices are linked, all the sounds you play on your mobile phone will automatically come out of the Google Home speaker.
Advantages of using Google Home as a speaker
Using Google Home as a speaker has many benefits. As you can imagine, the main advantage is being able to listen to the music you have on other devices through Google Home . This allows you to enjoy a powerful speaker anywhere in the house without relying on a cable connection.
You can take your Google Home device with you to any corner of the house and activate whatever you want at any time. Remember that, in addition to being able to play music, it is also perfect for playing podcasts, audiobooks, courses .. in short, any sound file you have and want to be heard better.
This is a great way to share the music on your device with others at a meeting or party. Take advantage of the Bluetooth technology that Google Home has to get more use out of it and listen to music with excellent quality.
If you want to use your Google Home, Home Mini, Nest Audio or Nest Mini as a Bluetooth speaker we have to link our mobile to the speaker via Bluetooth. To do this we just have to follow these simple steps:
Google Home device
Open the Google Home application on your mobile.
Tap on the compatible speaker that you want to pair via Bluetooth.
Tap on the gear icon to enter Speaker Settings .
Enter Disp. Bluetooth paired and then tap on Enable pairing mode .
From that moment you have a few minutes to link your mobile with the Google speaker. Here you have to go to the Bluetooth settings that you will find in the settings of your device. Once your mobile is paired with the speaker, all the sounds from your mobile will be heard on the Google Home / Nest .