Your Instagram Growth Strategy Guide
On Instagram, like everywhere else online, content is king. But if you can't identify your target audience—the king's loyal subjects, so to speak—your content will "rule" a non-existent kingdom. The relationship between content and its target audience is like that of the proverbial chicken and egg. To create great content, you need to know who your target audience is and what interests them. To reach your ideal audience, you need great content. So what comes first, the content or your target audience?
Unlike the chicken-and-egg conundrum, it's an established fact in the realm of social media marketing that you must first identify your target audience in order to craft the type of content that will appeal to them. With the right audience for your business and the right content to engage them, you'll have two of the most important components you need to build your brand on Instagram.
Why is it important to identify your target audience?
Organic growth is the gold standard for Instagram growth, and the quality of your followers is of the utmost importance if you want to maintain this growth. Let's break down the reasons why it's important to identify your target audience.
When you know how to identify your target audience, you can produce the right content that interests them and encourages them to hit the follow button and engage with your brand.
When you are able to correctly identify your target audience, you will know when is the best time to reach them with your content.
Identifying the right target audience will help you optimize your Instagram ad spend and strategy .
Proper audience segmentation ensures that you get quality followers who are genuinely interested in what you offer, consistently provide quality engagement, and stay for a long time.
Having the right audience that consistently engages with your content will help increase your visibility and metrics on Instagram.
When you're striving for a larger following, it can seem counterintuitive to prioritize quality over quantity. But always keep your eyes on the big prize: the long-term Instagram goals you've defined for your brand , and that you can only achieve when you build your brand with the right target market and gain followers from them.
How to identify your target audience: How to find your ideal match
Before we get into how to identify your target audience, here's a quick rundown of what a target audience on Instagram means.
What is a target audience?
Let's first define what a target audience is for Instagram posts. Whether you boost your posts or not, you need to identify a target audience for your content. However, boosting an Instagram post will turn it into an Instagram ad and give you the benefit of optimized audience targeting so you can reach more people. Through optimized audience segmentation, you can define your target audience according to the following:
demographics
People you already know, for example, your current followers and other users who have previously participated in your content.
Specific audience groups, or Custom Audiences , of people who have already shown an interest in your business or product and who you can find from your customer contacts, website traffic, mobile app, or previous content engagement.
Lookalike Audiences , which are groups of people that are similar to those already associated with your business.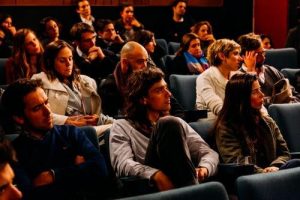 Target Audience Example
A good example of a target audience is your customer list if you already have a customer contact list. Your customer list is as good a place as any to identify your target audience and start building your custom audience for an Instagram ad.
When you create a Custom Audience from your customer list , your customer information, which typically includes their email addresses, phone numbers, and addresses, will be matched against Instagram user profiles. The more customer information you can provide, the better matches you'll get for your Custom Audience. You have full control over "identifiers," or customer information, to specify the custom audience for your boosted post.
How to Identify Your Target Audience: Social Media Audience Research
Who is your ideal client?
Create the profile of your ideal customer or buyer/audience through these key descriptions:
Age
Location
Language
Power and spending patterns
Interests
personality/traits
objectives
challenges
Stage of life
Supporting Brands
Social channels they use
For B2B, the size of the company and who makes the purchasing decisions
You can get the data you need from social media analytics like Facebook Insights and/or competitor research.
Take a look at your Instagram Insights to identify your target audience
Instagram Insights will allow you to take a closer look at your current audience for more guidance on how to identify your target audience. Learn about your current audience's engagement in your past posts, Stories, videos, Reels, live videos, as well as current and past ads, if applicable. This data will allow you to know what kind of people to target with what type of content, what your ideal audience is most interested in, when and where to find your target audience and how you can further optimize your content strategy to get more . followers .
Check the competition to identify your target audience
Take a look at the Instagram accounts of your competitors. More specifically, look at their followers to help you identify your target audience. Check his list of followers. Scroll through their posts and take note of the people who like and comment frequently. Not only will this give you real potential followers to target, but you'll also gain useful insight into what your competitor's most engaged followers are interested in. You will be able to kill two birds with one stone: identify your potential target audience and get ideas for future content.
There are third-party tools that you can use to do your target audience analysis . These tools will provide you with essential information about your competitor's followers, such as their location, demographics, and brand mentions.
Discover trends through social listening
Social listening is an audience research approach that monitors online conversations about an industry, brands, products, services, and relevant keywords and mentions. Social media listening tools help obtain this information so you can identify your target audience by analyzing and understanding what people are talking about, searching for, feeling and thinking.
Use hashtags to identify your target audience
Identify your target audience by using hashtags. These are hashtags that your target market uses or searches for frequently both on Instagram and elsewhere on the network. Most of the time, these hashtags are relevant to your specific industry and business. They won't look out of place when you use them in your captions. With the right hashtags , you will get your content to reach the right audience. People searching for exactly the type of content you offer will also discover you faster through the hashtags you use.
You can also do a hashtag search to find potential new followers. Look at the results of the posts and like the ones that are most relevant to your own brand of content. Go one step further and check the profile of the person who posted the content. If he seems like a good fit for your target audience, give him a follow and comment on one or two of his most recent posts as a way of introducing yourself. Again, be subtle in how you present your brand. What you want is for a new potential follower to be interested enough to see your profile and hopefully follow you.
Identify your target audience using location tagging
You can literally put your content in the right place for maximum visibility and identify your target audience using location tagging. Instagram's location tagging feature will make your tagged posts appear in relevant searches. People searching for the location(s) you tag are usually those who might also be interested in your content. Location tagging is especially helpful when you're part of an event.
How to Identify Your Target Audience: Take a Direct Approach
Conducting customer surveys
Identify your target audience by going directly to the source: your current Instagram followers. Run a poll on your Instagram Stories; Ask relevant questions that address the needs, interests, or expectations of your audience. You can easily discover your followers' preferences, their behaviors or even what they don't like. Their contributions will allow you to get to know your audience better and will help you improve your segmentation strategy on the platform.
Don't shy away from asking your followers questions or asking for their opinion in your feed. Create a post for the specific purpose of conducting an informal poll. Or, you can always end the caption of any regular post with an engaging question to find out what your followers like.
Identify your target audience by knowing your followers
Another way to identify your target audience is to better understand the followers who frequently engage with your posts. The best time to meet them is while responding to their comments on your posts or to their text messages. Visit a follower's profile and check out their most recent posts.
What do you like to talk about? What hashtags do they use most often? What is your language style? If you see a pattern among your most active followers, you can adapt your caption style to their way of speaking, using the same hashtags and talking about the same topics to make your posts more relatable and attract more of the same audience. Just make sure you stick to the mark.
The hashtags they use and the topics they talk about will also tell you what your followers are most interested in. You can go ahead and find out what other Instagram accounts they follow to get a better idea of ​​your followers' preferences. Use the information you collect to create content that resonates with your ideal audience.
Communicate directly with your followers
You can identify your target audience by communicating directly with the one you already have. Sending a DM to a new follower is a great way to show your appreciation, give them a warm welcome, and ask them what they're looking for (be subtle, but keep it interesting). You can ask them what kind of content they would like to see more of from your page, or how you can help make their feed more enjoyable and interesting. Use their input to craft or redesign your content strategy so your posts appeal to the right audience.
Don't miss the opportunity to send a DM to the followers who usually like and/or comment on your posts. Keep your message short and sweet. Thank them for their love and casually ask them for a quick comment so you can improve their Instagram experience.
Identify your target audience by collaborating with the right influencers
Influencers specialized in niches relevant to your brand can help you identify and connect with your target audience. You can get in touch with an influencer with a huge fan base and more areas of expertise (including your niche). But keep in mind that such an influencer can afford to be picky about the brands they promote and can demand higher fees.
You can go for an influencer with a smaller but more dedicated following. Although their reach is limited (make sure it's larger than your own audience), you can be sure that their followers' interests are aligned with your niche. The influencer can also be more accommodating and flexible when it comes to the terms of their collaboration. Partnering with the right influencer will give you direct access to your ideal audience and give your business the exposure it needs.
Final Thoughts: Stay in the Spotlight with Your Audience Research
Identifying your ideal target audience for Instagram is a crucial step in lasting growth for your business. An effective content strategy depends largely on paying attention to the interests, tastes and preferences of your target audience. You have to put a lot of time and effort into audience research to get to know your audience well and deliver the kind of content that piques their interest and earns you a lot of followers.
Keep in mind that knowing your target audience is an ongoing process, as their interests also change with the times. You must be aware of what they are currently searching for and what their current needs are in order to properly hone your content strategy and audience targeting.
Over time, you will discover an effective strategy for identifying the right target audience for your brand, one that works most of the time and regardless of changing trends. Keep what works, but also be flexible enough when necessary to take a slightly modified or entirely new approach to your Instagram growth.
You may also consider partnering with a trusted growth partner, such as Path Social. You can take advantage of Path Social's proprietary AI segmentation technology to ensure you'll always "hit the mark" when it comes to identifying your target audience. Start growing and gaining followers on Instagram today with real followers who are genuinely interested in what you have to offer.