In corporate and information technology specific terms, a disaster is an abrupt interruption or failure of the entire IT platform or much of it , affecting business activities and thereby causing a drop in operations and revenues.
To minimize the losses and impacts of these unplanned incidents, it is very important that the IT team is trained in disaster recovery practices ( Disaster Recovery or DR) and materializes them through a recovery plan for each subsystem and area. functional within a company.
Disaster Recovery Practices should be evaluated and improved based on recovery drills and feedback capture processes, in the hands of a delegated committee for such purposes.
Let's take a look at 5 disaster recovery practices to mitigate failures and avoid vulnerabilities.
Disaster Recovery Practices
A disaster recovery (DR) plan consists of a formal document created by the IT organization that gathers detailed instructions on how to respond to unplanned incidents, including: cyberattacks, blackouts, connectivity outages, natural events, and other disaster strikes. disruptive.
The plan consolidates and presents in detail the strategies in order to minimize the impact of a disaster for the corporation or a specific area.
An effective and well-applied DR plan enables the organization to continue operating or quickly resume key operations.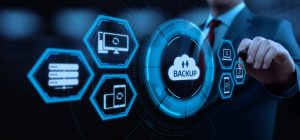 According to Cisco , a disaster recovery plan should:
Identify and classify threats and events that can lead to disasters, determining their criticality.
Define the resources and processes that minimize their impact and ensure the continuity of operations during the disaster.
Design reconstruction mechanisms so that operations return to normal with minimal disruption.
This disaster recovery plan includes all detailed recovery mechanisms and a formalized committee or commission will be responsible for testing, executing and improving the plan.
Disaster Recovery Committees
The Disaster Recovery Committee (DRC) are other practices or tactics DR. They are made up of key delegated personnel from each of the areas that may be impacted and who play an active role in the recovery procedures according to the plan.
A typical DRC is coordinated by IT staff and has representation from areas such as finance, operations, security, human resources, supplies, and vendor management, among others.
Disaster Recovery Practices, It is the DRC that is in charge of designing the plan, implementing it, improving it and updating it. The members of a disaster recovery committee are also activated when a risk is detected, measure its criticality, scope and design mitigation mechanisms.
They monitor the situation and in the event of any eventual disaster, they activate, deploy the plan and return to operations with due normality in the shortest possible time.
Following best practices, the roles, responsibilities and hierarchy of the different members of the committee must be clearly defined both in normal operations and in the event of a disaster emergency. Substitutes or support staff must also be appointed in the absence of a primary member.
Backups and BaaS
Backups are the most basic element in disaster recovery practices, insufficient on their own today.
Initially they consisted of backing up critical databases and data centers on removable drives or parallel servers, but today they have evolved to the practice of software-defined device-based backups.
They are based on cloud storage and geographic redundancy, providing automatic backups that facilitate data restoration in the cloud, regardless of the event, be it a malicious attack or a natural event.
Fortinet  refers to the term BaaS, or Backup-as-a-Service to refer to the offer of an external provider who has the task of backing up certain data and critical databases of the organization at the request of the IT area , the DR committee or the co-managed evaluation.
Secondary data protection
A step up from simple backups of data centers and critical applications, Secondary Data Protection focuses on automated recovery practices in the cloud for data optimization.
Less than a decade ago, copies of critical data could be considered a risk, now they are considered a valuable practice as long as they are kept in safe places.
Maintaining backups and replicas in the cloud provides the assurance that data is safeguarded remotely from a collapse at corporate headquarters, should you need to access or restore it.
The Secondary Data Protection or Secondary Data Protection provides added power to take these secondary data and use them in development by objectives, test environments and simulations.
Disaster Recovery as a Service (DRaaS)
The comprehensive evolution in secondary data protection practices is represented by the DRaaS. According to IBM, it is a popularized disaster recovery practice since 2010 with the advent of comprehensive solutions in the cloud.
The practice of Disaster Recovery as a Services  is based on outsourcing, it uses the cloud resources of a provider as a backup of all critical processes to avoid business interruptions caused by a disaster.
Two points must be taken into account when hiring a DRaaS service: The objective recovery point and the recovery time.
The RPO or Target Recovery Point will limit the maximum allowed amount of lost data, based on the time between the failure and the last restore point.
While the recovery time (RT or RTO) will represent the time from the incident to the recovery of normal operations.
DRaaS offers benefits beyond the advantage of protecting your critical business processes in the event of a disaster.
Its cloud-based nature ensures permanent secondary data protection and instant availability, so in the event that a physical site temporarily collapses, there will be no longer wait times to access information from the cloud.
A comprehensive DRaaS offering gives you agile access to a plan that covers all your business assets and limits flaws and vulnerabilities.
It looks like a much more affordable action than for example renting spaces for physical backup servers, something that takes up investment and expenses for energy, cooling, personnel and security.
To end
We hope we have provided a simple and summary overview of disaster recovery best practices.
When it comes to protecting your business from disasters, no matter which DR practice you choose, just act.
Long downtimes can lead to irrecoverable loss of market and competitiveness.
Does your company and your channel partners have up-to-date DR plans? Do you have an active and committed DRC? Explore the BaaS and DRaaS offering and remember the adage "hope for the best but be prepared for the worst".
Keep in mind that a knowledgeable DRaaS partner can advise on best practices for your specific and unique circumstances by striking the right balance between business availability needs and required IT investments.